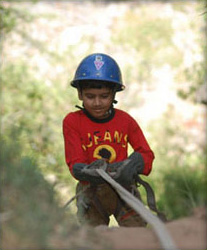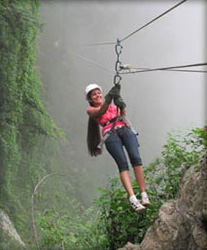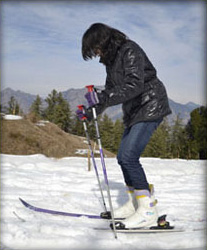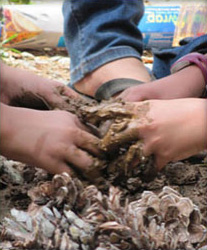 Activities
The Mashobra Greens provide a choice to challenge your limits with Variety of mountaineering adventure activities run by experts and certified professionals for every one .Weather it is a rappelling or valley crossing , the natural landscape, deep pine forest and rocks provides one of the best platform in India to experience and conquer your fear from basic to pro level. Even who do not want to do the adventure ,always go for a walk around to view breath taking flora and fauna with a view of more then hundred different type of Himalayan birds or just walk down five hundred meters from the camp to rejuvenate your mind, body & soul in the courtyard of the ancient shipper temple with breath taking view of deodar forest and divine peace of the place.
Burma Bridge
The Burma Bridge structure has two parallel ropes - one above the other - strung from poles / trees, at a height of 25 feet.
Participants are divided into teams. At one time, two participants will climb the structure from two opposite ends using ladders and walk across the ropes to the center of the structure. They will walk on one rope while holding the other one at shoulder / head height for support. 
The participants will be secured with harnesses and the guiding / belay ropes will be handled by instructors.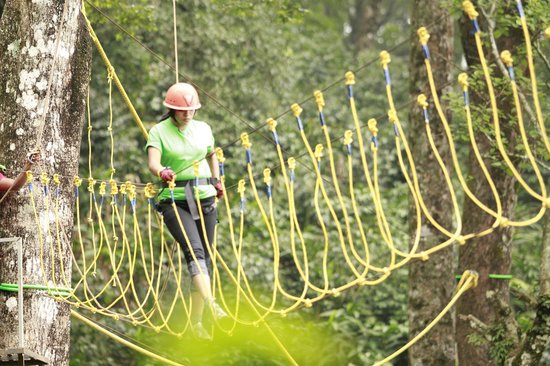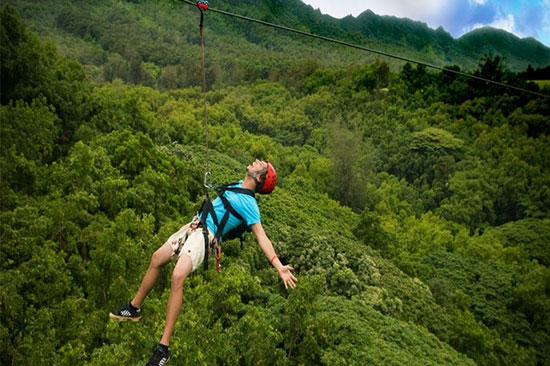 Valley Crossing
In this adventure sports activity, a rope is tied across a river on the two river banks. The participants cross the river one-by- one. 
Each participant is harnessed and the belay / safety rope is in the hands of the instructor. The participant is attached to the primary rope with the help of a carabiner - the participant is parallel to the rope. The participant then has to use his / her hands to pull himself / herself to the other end of the river. This activity also takes care of enhancing motor-skills as well as courage. 
Hiking
Hiking is the act of walking. When referred to as an activity it is most commonly as a day trip that requires little planning and organization. It's basically just walking on trails. It can involve taking a trail to the top of a mountain, or just a gentle prairie trail that winds along a river or creek.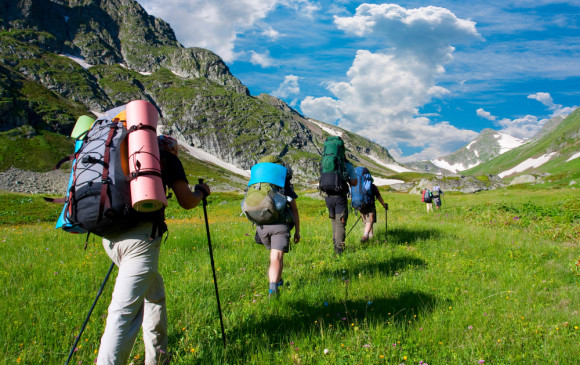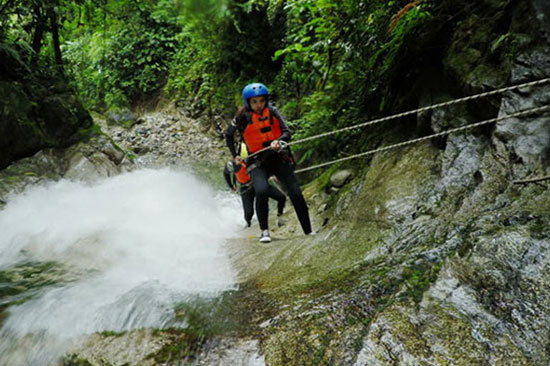 Rappelling
Rappelling is the technique of the abseil (or rappel) method of roping down or descending down a fixed rope on a rock-face or mountain side. The participants are secured safely to a harness and belay rope, which are handled by an instructor. 
The participants walk down backwards parallel to the ground at a 90 degree angle to the rock-face while the rope is let out slowly from their hands. The other end of the rope is secured on the top of the rock-face with the instructor. This is an adventure sports activity that helps develop courage, motor-skills, co-ordination & balance.
There are quite a few variations of Rappelling - Face Forward, Back Forward, Overhang etc. 
Flying Fox
Ever wanted to know what it's like to fly like Superman?  Or what it's like to soar with the eagles from treetop to treetop?  Come to Mashobra Greens this summer and find out!
Flying Fox is an awesome, exhilarating experience.  There is nothing like it in the world!  We utilize qualified staff & trainer for our Flying Fox activities, in the camp.
You are harnessed and attached on wire rope with the help of pulley at the higher end and then slide free fall on that wire rope. This is an exhilarating and unique aerial journey.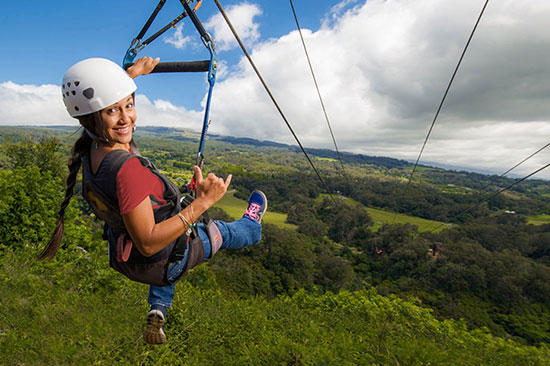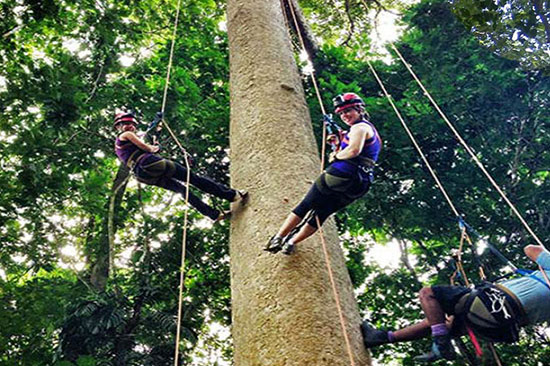 Tree Zumaring
Imaging having to pull yourself up a tree or any other high point with the help of a rope, with nothing else to help you get up there! No branches to take support from, no hand or foot hold to seek leverage from, nothing but the raw strength of your muscles to get you to achieve the height you wish to attain.. Every inch of height gained will be a test of your strength and stamina – an achievement in its entirety! Jumaring is one activity that will get you to prove it to the world and to yourself that you have the power to do almost anything.It will help you prove your metal like no other.
Jumaring will be the ultimate test of your strength and stamina. Imagine climbing on tree vertically from ground to top branch without support of its trunk.  A picture speaks more than thousand words in the same way the experience of Jumaring is bigger than lifting a truck on your hands. Probably for first time you will feel your weight and its true impact.
Rope Obstacles
Ropes courses strengthen an individual's self-confidence and problem solving skills. Participants can push their limits and face their fears with these thrilling high ropes course activities.